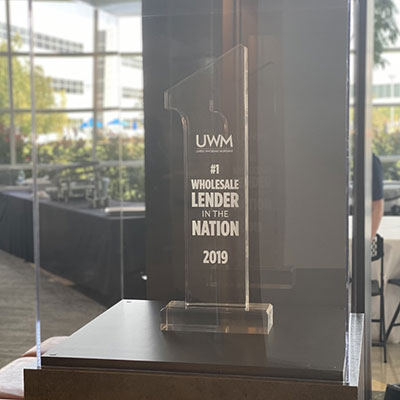 Dream Team: Hill Mortgage-UWM Partnership Means Better, Faster, Cheaper Loans For Clients
In September, our leadership team had the privilege of attending a networking event for mortgage company owners at United Wholesale Mortgage (UWM) headquarters in Pontiac. The success track seminar hosted independent mortgage company heads from all over the nation and featured a dozen speakers, namely President and CEO Mat Ishbia and other members of the UWM executive team, who shared business insights on marketing, compliance, and technology.
As an official partner of UWM, the No. 1 wholesale lender in the country, Hill Mortgage offers local bespoke service while tapping into the advanced resources, capabilities, and efficiencies of a larger organization. What exactly does that mean for our clients? Simply put, using a mortgage broker like us is better, faster, and cheaper than going to a bank or "mega" mortgage company. Our strong partnership with UWM fuels everything from our capabilities to our company culture. Here, the qualities that make Hill Mortgage a top choice for local clients.
We are small but mighty.
Understandably, a consumer might be apprehensive about working with a local company of 10 employees when they generally think of a JP Morgan Chase, Bank of America, or a behemoth like Quicken Loans, for mortgages. We are an independent company that is uniquely positioned to source its loans through UWM and leverage our partnership access and proficiencies. We can often secure better interest rates and reduced costs for clients, while offering flexibility and customized service for diverse customer needs. Our team of highly qualified brokers combined with UWM insights makes us a trustworthy resource that gets it done.
We care.
If you're entering the mortgage loan process, you're likely facing the most stressful financial transaction of your life. Knowing who you're working with and feeling supported will alleviate much of the unnecessary strain. UWM's CEO is known for arriving to the office every day at 4:00 a.m. and sending personalized voicemails and emails to his team members. Our team subscribes to this personable approach, and we make sure our actions reflect that in our availability and accountability to our clients. While banks turn off their phones at 5:00 p.m., we're 24/7, 365.
We finish with flying colors.
Large banks and giant mortgage companies are closing loans in 45–90 days. Hill Mortgage closes its loans typically in less than 20 days, and often in less than 10 days. Our partnership with an organization that invests billions of dollars in technology, including custom software and programming, enables us to jump hurdles with ease and guide our clients through a smoother, more efficient process.
Call us today 313-636-3700 to learn more about buying, refinancing, and career opportunities at Hill Mortgage.